Alarmist research and media headlines pop up yearly to show that a diet rich in red meat consumption may increase your chances of developing or worsening heart disease from the endogenous production of TMAO by our microbiome. Every year we see a new headline pop up similar to "Cleveland Clinic Studies Reveal Role of Red Meat in Gut Bacteria, Heart Disease Development". Scary, right? Let us give up eating red meat, even though it is an excellent source of animal protein and is nutrient-rich. Before I swear off ingesting red meat in my diet, is there any truth to the research and headlines that TMAO production by your microbiome from ingesting red meat causes or worsens health issues?1 2
Trimethylamine (TMA) Pathway
The food we consume daily is broken down into smaller components that can be absorbed readily. These components can be metabolized or modified by our gut microbiome into beneficial or possibly harmful components. For example, bacteria can ferment carbohydrates to produce short-chain fatty acids, including butyric acid, which feeds our colonic cells, is antimicrobial, and is anti-inflammatory. Microbes in our gut can also metabolize choline, glycine, betaine, and carnitine that we ingest in our diet. The byproducts produced from the ingestion of these components by an unhealthy microbiome in the trimethylamine formation pathway may increase the risk of developing cardiovascular diseases such as atherosclerosis. Therefore, it might be best to limit the ingestion/supplementation of carnitine, betaine, glycine, or choline (half or less of standard supplement recommendations) if you test for increased trimethylamine production from stool test results including Viome.3 4
What is Atherosclerosis, and Why Should You Be Concerned?
Atherosclerosis is a vascular disease affecting large and medium arteries due to attachment of debris on the intima of the arteries that can later stiffen or form thrombus, which can trigger a cardiovascular or cerebrovascular event, sometimes life-threatening.5
Risk factors or etiology for developing or worsening atherosclerosis:6 7 8 9 10 11 12 13 14
1. Smoking
2. Poor diet (frequent ingestion of omega-6 cooking oils, added sugar, non-animal sourced trans fatty acids, and refined carbohydrates)
3. Frequent alcohol consumption
4. Uncontrolled hypertension
5. Dyslipidemia (low HDL, elevated VLDL, elevated apoB, elevated triglycerides)
6. A current or previous history of uncontrolled diabetes mellitus
7. Familial history of heart disease
8. Advanced age
9. Obesity
10. Male biological sex
11. Genetic abnormalities
12. Epigenetics
13. Sedentary lifestyle
14. Elevated stress
15. Poor health of your oral and gut microbiome
16. Magnesium deficiency
17. Poor oral health
Endothelial dysfunction within our vascular system occurs from chronic oxidative stress and uncontrolled inflammation. For example, uncontrolled elevated resting blood pressure over time leads to vascular endothelial dysfunction from increased pressure on our vascular walls, triggering injury, and causing inflammation. Elevated blood pressure means that with each beat, the vascular system throughout the body swells and stretches more from increased pressure. Excessive swelling and stretching of the endothelial system over time injure the endothelium, the delicate lining of all arteries, causing endothelial dysfunction.15 16 17
Our body responds to vascular endothelial injury by sending white blood cells to the vascular endothelium to attempt to repair the tissue by entering through the endothelial barrier in the artery that has been disrupted. The white blood cells that are implicated the most for vascular repair are monocytes and lymphocytes. Platelets, in response to the injury, also adhere to the vessel wall and release inflammatory mediators such as cytokines and platelet-derived growth factor. The platelet-derived growth factor causes the smooth muscle cells of the artery to proliferate to replace the damaged cells. Platelet-derived growth factor causes fibroblasts to differentiate into myofibroblasts to attempt to repair the arterial wall. The monocytes differentiate into macrophages, ingest oxidized LDL that have entered the area from blood plasma because of the damaged vascular epithelium. The macrophages become large "foam cells." The macrophages are called "foam cells" because of the change in their appearance from their numerous internal cytoplasmic vesicles and elevated lipid content. "Foam cells" from fatty streaks within the vascular system at the source of injury, and if not removed and healing does not occur at the site of injury, atherosclerosis begins.18 19 20 21
"Foam cells" die from increased oxidative stress because of the oxidized LDL, further increasing vascular inflammation. Calcification also occurs as these "foam cells" die and are left deposited in the vascular epithelium. Most vascular lesions are composed of excessive fat, dead calcified cells, collagen, and elastin. Smooth muscle cell proliferation and migration (can be prevented by the body from the release of nitric oxide causing vasodilation) from the tunica media into the intima part of vessels occurs in response to cytokines secreted by damaged endothelial cells. Smooth muscle cell proliferation and migration cause the formation of a fibrous capsule ("atheromas") covering the fatty streak. Finally, intact vascular endothelium can prevent smooth muscle proliferation by releasing nitric oxide.22 23 24 25
Serious medical conditions and complications might develop if atherosclerosis worsens over time and can be fatal if left untreated. A heart attack (myocardial infarction), stroke, transient ischemic attack, pulmonary embolism, or aneurysm may occur from long term untreated atherosclerosis. An atherosclerosis-caused heart attack occurs when an atheroma ruptures from an affected artery and is transported into the arteries supplying the heart with blood, causing a blockage and severe inflammation. However, unstable plaques that break off and occlude arteries are not the only way atherosclerosis caused health issues to occur. Chronic atherosclerosis can severely decrease or completely obstruct blood flow in arteries from continuous plaque buildup over time and cause serious health issues.
Even the coronary arteries that supply blood to your heart can also become clogged from advanced atherosclerosis. If the clogged artery is severe enough, a localized formed blockage can block blood flow to your heart as well. If the body cannot pump any blood past that clogged artery, heart failure can occur and death if not treated promptly. Finally, if the fibrous cap separates, a soft atheroma from the bloodstream within the artery ruptures, When the atheroma ruptures, tissue and plaque particulates are released into the bloodstream. Platelets and white blood cells are activated from the rupture, and blood clotting and repair begin from the arterial injury. A thrombus forms overlying the atheroma which, if large enough, also restricts blood flow. There are many various mechanisms in which atherosclerosis causes severe health issues if left untreated.26 27 28 29
Atherosclerosis (risk and disease progression) is diagnosed by many different methods, including:30 31 32 33
Angiography (coronary catheterization for example)
Blood testing (cholesterol panel, fasting glucose, HbA1C, hs-CRP, homocysteine, sedimentation rate)
Blood pressure monitoring
Cardiovascular "stress test"
Carotid ultrasound
Chest CT scan, specifically coronary calcium testing
Detailed family/medical history
Genetic testing
Intravascular ultrasound
How Trimethylamine-N-oxide (TMAO) is Formed Within Humans
Trimethylamine is obtained from daily dietary ingestion of foods or supplements that contain choline, glycine, L-carnitine, or betaine and their interaction with differing microbes in our digestive system. Differing amounts of trimethylamine is produced, person to person, because of the individual differences in our diets and the health of our microbiome. Certain microbes in our gut may produce excessive amounts of trimethylamine from the ingestion of foods or supplementation of L-carnitine, choline, betaine, or glycine (animal products are a rich source). Trimethylamine converts into trimethylamine-N-oxide by both microbes in our digestive tract and by our liver. Increased trimethylamine-N-oxide levels in the blood might be associated with the increased risk of arterial inflammation and atherosclerosis development.34
The following are a list of ways trimethylamine-N-oxide is formed in our body:35 36 37
1. When we consume foods that contain or supplement with choline, glycine, betaine, and L-carnitine, differing amounts of trimethylamine might be produced by your microbiome.
2. Escherichia coli, which usually resides in minute amounts harmlessly in our digestive tract microbiome, produces the enzyme choline Trimethylamine-lyase (CutC), which metabolizes choline into trimethylamine.
3. Microbes in our digestive system produce the enzyme betaine reductase complex component B subunit beta, which acts on glycine and converts it into trimethylamine.
4. Microbes in our gut produce the enzyme carnitine monooxygenase oxygenase subunit (cntA), which metabolizes L-carnitine into trimethylamine.
5. Microbes also produce an enzyme called beta-amylase (beta) that converts choline and L-carnitine into glycine, which can be converted into trimethylamine.
6. Escherichia coli and our liver (FMO3) produce the enzyme flavin-containing monooxygenase (FMO), which converts trimethylamine into trimethylamine-N-oxide (TMAO).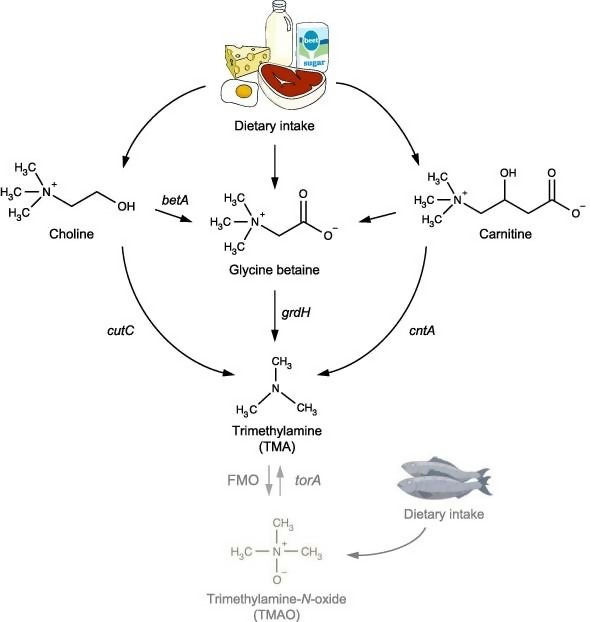 Many different bacteria within our digestive tract other than Escherichia coli can produce TMAO. Gammaproteobacteria (Escherichia coli, Citrobacter, Klebsiella pneumoniae, Providencia, and Shigella), Betaproteobacteria (Achromobacter), Firmicutes (Sporosarcina), and Actinobacteria (Bifidobacteria does not produce significant quantities of TMAO and is beneficial) can produce TMAO from ingestion of choline, glycine, L-carnitine, or betaine. Bacteroidetes are not able to produce TMAO in our microbiome from the ingestion of choline, glycine, L-carnitine, or betaine. I recommend that you try to keep the following bacterial ratios within your gut microbiome, Bacteroidetes should be less than twenty-five percent of your entire gut microbiome but greater than fifteen percent, Firmicutes should be around fifty percent of your total gut microbiome, Proteobacteria should be around one to three percent (lower the better), Actinobacteria (mostly Bifidobacteria) should be less than five percent, Fusobacteria should be less than five percent, and Verrucomicrobia (mainly Akkermansia) should be less than five percent of your total gut microbiome. A recommended diet to try to achieve this hopefully healthy ratio of bacteria within your gut microbiome is the Perfect Health Diet.38 39 40
Does Increased Levels of Trimethylamine-N-oxide Within Our Bloodstream Cause/Worsen Arteriosclerosis?
Increased levels of trimethylamine-N-oxide (TMAO) in our bloodstream has been correlated with increased endothelial dysfunction and vascular inflammation related to elevated plasma TMAO levels that promote oxidative stress. Patients with type two diabetes and chronic kidney disease have a higher proportion of TMA-producing microbiota. According to studies, a positive correlation in those studies was found between TMAO and inflammation biomarkers (increased C reactive protein, for example) and endothelial dysfunction. TMAO increases the activation of the scavenger receptors CD36 and SR-A1 within macrophages, which promote lipid accumulation and foam cell formation within arteries prone to arteriosclerosis. CD36 expression and foam cell formation are induced by oxidatively modified low-density lipoproteins, enhanced by TMAO in the bloodstream. Since elevated levels of TMAO in our bloodstream enhances lipid accumulation in the bloodstream, elevates inflammation, and increases foam cell formation within the arteries, then it may cause or worsen arteriosclerosis.41
However, there is also evidence that TMAO within our bloodstream might be beneficial for the cardiovascular system as well. Since seafood contains elevated amounts of trimethylamine and trimethylamine-N-oxide, you would think that ingesting seafood would be bad for your cardiovascular system? Instead, most evidence shows that ingesting healthy seafood frequently promotes cardiovascular health. TMAO has also been shown in other studies to protect the cardiovascular system for atherosclerosis. I believe that just like elevated serum homocysteine is more of a sign of improper methylation and increased inflammation then being a cause for increased risk of heart disease, elevated TMAO is a sign of gut dysbiosis which is the real contributor to the development or worsening of arteriosclerosis.42
"On the other hand, fish and seafood are rich in TMAO and TMA, with marine fish having bigger concentrations than freshwater fish. It has been speculated that, if high TMAO levels are involved in CVD, then eating more fish would increase risk of CVD. Indeed, some studies have shown that high consumption of fish augmented circulating TMAO levels within 15 min of food consumption, suggesting that TMAO itself can be absorbed without undergoing any transformation by gut microbiota. Nevertheless, the risk of CVD is not increased as fish also contains cardioprotective molecules such us ω3-poly unsaturated fatty acids, mainly eicosapentaenoic acid (EPA) and docosahexaenoic acid (DHA). In fact, the use of fish oil (FO) in mice fed a HFD ameliorated the adverse effects produced by TMAO, including impaired glucose tolerance and adipose tissue inflammation, decreasing MCP-1 and increasing IL-10 levels."43
"Moreover, several lines of evidence propose that TMAO might play a protective role in CVD. Supplementation with L-carnitine seems to improve some features of CVD although it raises plasma TMAO and TMA levels, and even TMAO showed positive effects against atherosclerosis in ApoE−/− transgenic mice expressing cholesteryl ester transfer protein CETP."44
TMAO is removed from our bloodstream by our kidneys, and we urinate it out (decreased kidney function increases the half-life of TMAO and decreases its clearance rate). Any increase in serum TMAO from ingestion of choline, glycine, betaine, and L-carnitine, is quite low and is eliminated from the body quickly before it contributes to arteriosclerosis. We need more studies to determine if elevated TMAO in our bloodstream is a great risk for the development of arteriosclerosis or are elevated blood serum levels are a sign of an unhealthy gut microbiome which can read to the development of arteriosclerosis (from increased gut permeability causing systemic uncontrolled inflammation and autoimmunity). Finally, the following link is to an excellent blog discussing TMAO.45 46
What You Can Do If You Test for Elevated TMAO Production in Stool Testing or If You Are Concerned About Arteriosclerosis
Maintain proper blood pressure. Magnesium supplementation (I recommend magnesium malate), proper diet, adequate sunlight exposure, frequent exercise, stress reduction techniques, and proper sleep hygiene many help maintain your blood pressure.
Reduce or eliminate nicotine (nicotine causes vasoconstriction and elevated blood pressure) consumption if possible.47
If you are overweight, work with your healthcare professional to help you lose weight properly.48
Avoid supplementing with choline, glycine, betaine, and L-carnitine if possible.49
3,3-Dimethyl-1-butanol found in extra virgin olive oil may reduce TMAO production by our microbiome. Frequent brussel sprout consumption decreases FMO3 enzyme activity, reducing TMAO production from our liver. Finally, frequent pistachio ingestion also reduces TMAO production by our microbiome.50 51 52 53
Ingestion of the prebiotic 2-FL may help increase probiotic bacteria colonies in your digestive tract that reduce TMAO production, including Ruminococcus, Lactobacillus, and Bifidobacterium.54 55
Supplementation of the probiotic supplement Smidge may improve your microbiome's ability to reduce TMAO production by providing probiotic strains of Bifidobacterium and Lactobacillus.56
Doctor's Best Meriva curcumin – take one capsule with breakfast and one with lunch.57
Jarrow Formulas resveratrol – take one capsule with breakfast and one with dinner.58